Summary
In side of the bucket elevator case is evenly covered with hopper fixed on the flexible traction components, After the material going into the hopper, through the upward movement of traction components to achieve vertical lifting transport. The bucket elevators are designed for vertical (eg TD / TH / NE type bucket elevators) or inclined transport (such as T / L type dehydrated pit type bucket elevator) to transport  the powder, granule and small block materials. transport capacity up to 600t / h, generally enhance the height of less than 40m; in recent years due to the development of steel cord conveyor belt, so greatly enhance the strength of traction components, transmission capacity has reached to 1600t / h, lifting height of 80m (such as TDG type high efficiency bucket elevators). At present, most of the domestic general bucket elevator is vertical, the inclined bucket elevator is less used due to the structure of inclined bucket elevator is more complex.
The advantages and disadvantages of bucket elevator:
1, the structure is simple and compact, the dimensions of cross-sectional form factor is small, significantly saving floor space.
2, the height of lifting is large, the small bucket to mention a large bucket of aircraft for quantitative material feeding oversea, the delivery height can reach to 350m.
3, the material in the sealed box to run, avoiding pollution of the environment.
4, the bucket elevator is great sensitivity of overload.
5, hopper and traction components are easy to wear.
6, the type of transport materials are limited.
The following gearboxes are used for bucket elevator:
(equivalent to SEW brand HB series B type)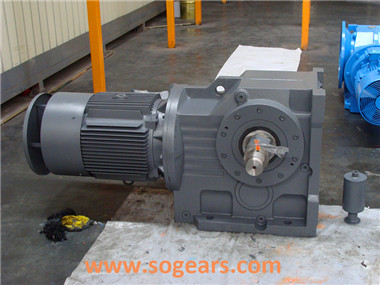 If you are interested in the above gearboxes, please feel free to contact with us.
We will offer you the best product and perfect service.
Looking forward to your inuqiry.
Warm Regards,
Lance ( Marketing Director; Mr. )         
NER GROUP CO.,LIMITED                            
Tel:+86-535-6330966
Mobile:+86-18563806647
https://www.bonwaygroup.com/
https://twitter.com/gearboxmotor
https://www.facebook.com/sogearsgroup
Viber/Line/Whatsapp/Wechat: 008618563806647
E-mail: This email address is being protected from spambots. You need JavaScript enabled to view it.;   Skype ID: qingdao411