F Series parallel shaft gearbox is different from other gearbox. There are various advantages of it such as compact construction, saves space for mounting, large load-bearing capacity, long lifespan and low noise. It is widely exported to North America, South America, Eastern Europe, Southeast Asia, Africa, Oceania, Mid East, Eastern Asia, Western Europe.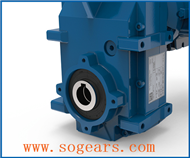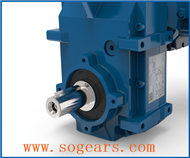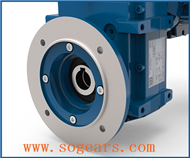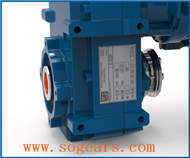 The special features of parallel shaft gearbox can be summarized as:
(1)High modularization design: It may equip with various motor or other power input conveniently;
(2)Same machine type may equip with various power motor;
(3)Easy to realize the combination and junction between every machine type;
(4)Transmission ratio: Fine division, wide scope;
(5)Combined machine type may form very large transmission ratio;
(6)Output very low rotary speed;
(7)Form of installation: The position to be installed is not limited;
(8)High strength, compact: The box body is made of high strength cast iron;
(9)Gear and gear shaft adapts the gas carbonization,quenching and fine grinding process, therefore the bearing capacity of unit volume is high;
(10)Under the condition of correct type chosen (including choosing suitable operation parameters) normal operation and maintenance;
(11)Life of main parts of speed reducer (except wearing parts) should not be less than 20, 000 hours;
(12)Wearing parts include lubricating oil, oil seal and bearing;
(13)Main parts of speed reducer are processed, assembled and tested critically; (14)High efficiency: Not less than 95%;
(15)It may bear the axial load that is not more than 15% of radial force;
(16)Output speed: 0.11-373r/min;
(17)Output torque: Up to 18000Nm; (18)Motor power: 0.18-200kw.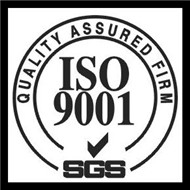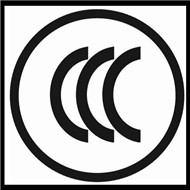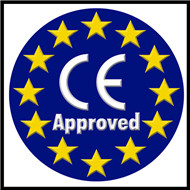 Shaft mount helical gear reducer Applications:
Shaft mount helical gear reducer are widely used in ceramic, glass, food, metallurgy, beer & drink, printing and dyeing, textile, petrochemical engineering, warehouse logistics, wood-working machine, environmental protection equipment, printing and packaging, pharmacy, and leather.