90 degree gear drive Features
K series double reduction gear motors use two pairs of helical gears and one pair
of spiral bevel gear for transmission,makes input and output a
right angle.Spiral bevel gear transmission featured by,large
superposition coefficient,high carrying capacity force,steady
and reliable transmission.Gears use alloy steel cement quenching, 
characterized by high hardness and sound abrasion resistance.
Its structural types can be combined with R and MB series for
output,with low speed and large torque.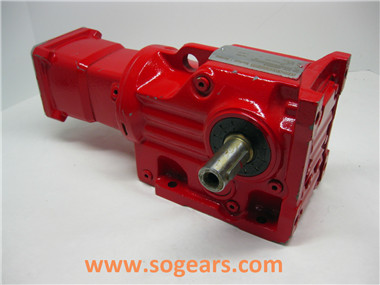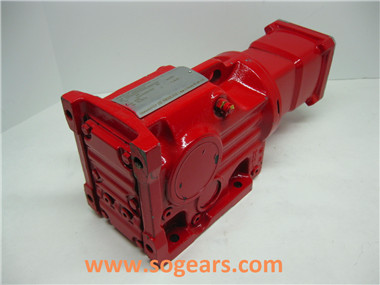 Description of 90 degree gear drive:
1. Same dimensions as SEW's.  
2.A combination of helical and worm gear units, compact structure and large ratio
3.Mounting mode:  Foot-mounted, flange-mounted or torque arm- mounted.
4.Input mode:  Coupled motor, belted motor, input shaft or connection flange
Rotary directions of input and output are opposite
5.Output mode: Hollow shaft or solid shaft
double reduction gear motors Technical Parameters
Product Features:  
Output speed: 0.13~259r/min  
Output torque: ≤50000N.m  
Power: 0.18~200KW  
Mounting type: Foot-mounted 
                         Foot-mounted and hollow shaft 
                         Hollow shaft 
                         B5B5 Flange-mounted 
                         B5 Flange-mounted and hollow shaft 
                         B14 Flange-mounted and hollow shaft  
double reduction gear motors application
it is most suitable for using in automatic production lines of ceramics, drinks, foodstuff, package, electronics, leather tanning, chemical, textile, carpentry and other industries.