F model 

helical gearbox shaft mounted

 advantages:
Foot mounted,solid output shaft.10 type sizes from F37-F157.refer to dimensional tables for detailed dimensions,and select tables for powers and ratios.


Parallel Shaft Cast Iron

 combines the international technical requirement including high technical contents.
helical gearbox shaft mounted save space, durable, high bear ability, the power can reach 200kw.


Parallel Shaft Cast Iron is l

ow consumption, superior performance, the machine efficiency is up to more than 95%.Small vibration, low noise, high energy conservation. Select high quality       steel products material and through the heat treatment to the gear wheel surface.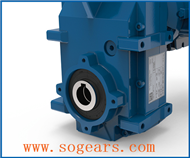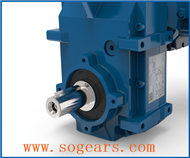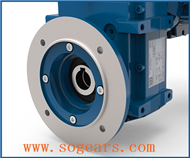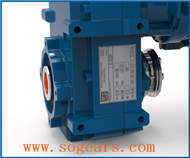 Parallel Shaft Cast Iron Key Specifications/Special Features: 
1. High modularization design: May equip with various motor or other power input conveniently 
2. Same machine type may equip with various power motor 
3. Easy to realize the combination and junction between every machine type
4. Transmission ratio: Fine division, wide scope 
5. Combined machine type may form very large transmission ratio 
6. Output very low rotary speed
7. Form of installation: The position to be installed is not limited 
8. High strength, compact: The box body is made of high strength cast iron 
9. Gear and gear shaft adapts the gas carbonization, quenching and fine grinding process, therefore the bearing capacity of unit volume is high
10. Long lifespan 
11. Under the condition of correct type chosen (including choosing suitable operation parameters) normal operation and maintenance 
12. Life of main parts of speed reducer (except wearing parts) should not be less than 20, 000 hours
13. Wearing parts include lubricating oil, oil seal and bearing 
14. Low noise 
15. Main parts of speed reducer are processed, assembled and tested critically
16. High efficiency: Not less than 95% 
17. It may bear the axial load that is not more than 15% of radial force 
18. Output speed: 0.11-373r/min
19. Output torque: Up to 18000Nm 
20. Motor power: 0.18-200kw
TYPE: F37 F47 F67 F77 F87 F97 F107 F127 F157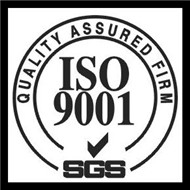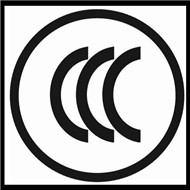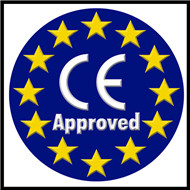 helical gearbox shaft mounted Applications:
Parallel Shaft Cast Iron are widely used in ceramic, glass, food, metallurgy, beer & drink, printing and dyeing, textile, petrochemical engineering, warehouse logistics, wood-working machine, environmental protection equipment, printing and packaging, pharmacy, and leather.