For R coaxial gear reducers, the boxes are cast precisely by high material And processed at processing center; The gears are made of high-quality alloy steel, are treated with surface hardening and toothed; And the key parts are imported.
coaxial gear reducer Characteristic:
1. Good available capability & reliability
2. Good temperature exchange capability & high strengthens
3. Carburized and grinded teeth
4. Good fabricate capability, can be fabricated with other reducer to realize low-speed transmission
R series helical coaxial gear reducer hardened precision machined to ensure parallel shaft and locating bearing requirements, forming helical coaxial gear reducer assembly configured for various types of motor , a combination of mechanical and electrical integration , fully guaranteed deceleration motor product quality attributes.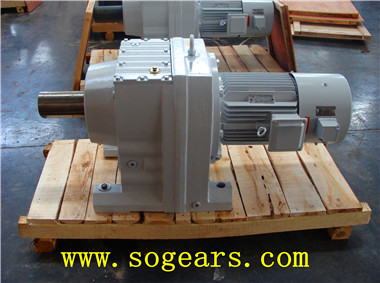 Helical inline DC Gear motors Data
Manufacturing precision :4- 5
Output speed :0.05 -809
Output Torque : Up to 15,000
Power :0.12-160KW
Helical inline DC Gear motors Applications
1.   Conveyor machinery
2.   Craning
3.   Bagger
4.   Enginery for foot industry
5.   Washer
6.   working machine
7.   Cropping & shearing machine
8.   woodworking machine
9.   Machines for plastic industry
Helical inline DC Gear motors Feature:
(1) The building block design.
(2) Housing is unitary, structure rigidity is good.
(3) Fit all types of motors.
(4) For different type machines.
(5) Ratio: 2-stage is 5~24.8, 3-stage is 27.2~264, ratio of combination is up to 18125.
(6) Solid shaft output, 2-stage efficiency 96%, 3-stage efficiency 94%, DR/DR efficiency 85%.
(7) Permit the positive opposite side revolve.