R series Motox Geared Motors have the feature of high versatility, good combination and heavy loading capability, along with other merits such as easy to attain various transmission ratio, high efficiency, low vibration and high permissible axis radial load. The Gear box with feet and motor series can not only be combination to varies kinds of reducers and meet the requirements, but also be advantage of localization of related transmission equipment.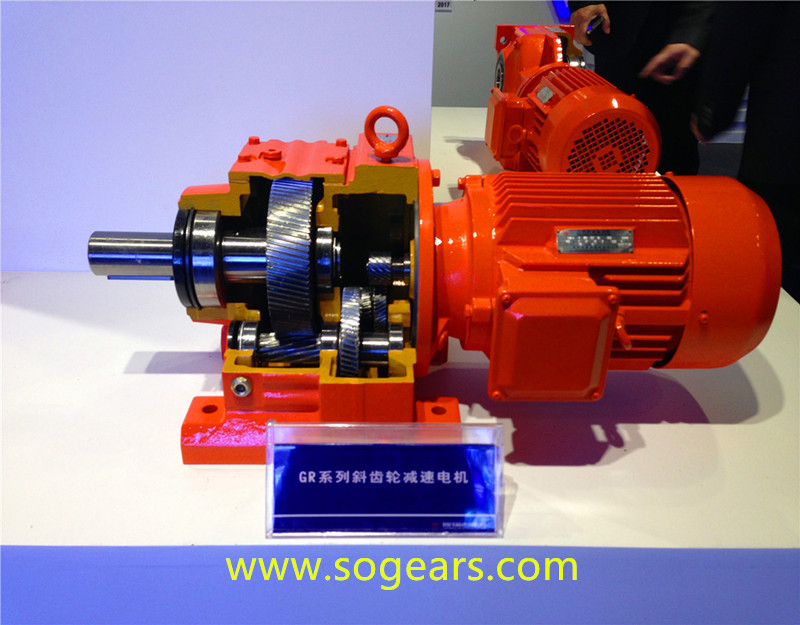 Motox Geared Motors Feature:
(1) The building block design.
(2) Housing is unitary, structure rigidity is good.
(3) Fit all types of motors.
(4) For different type machines.
(5) Ratio: 2-stage is 5~24.8, 3-stage is 27.2~264, ratio of combination is up to 18125.
(6) Solid shaft output, 2-stage efficiency 96%, 3-stage efficiency 94%, DF/DR efficiency 85%.
(7) Permit the positive opposite side revolve.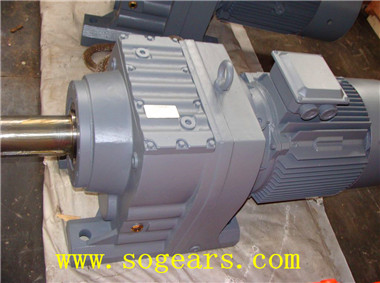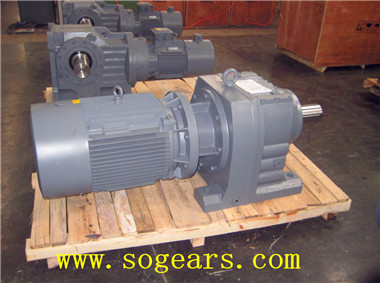 Motox Geared Motors Technical parameters:
(1) Output speed: 2.7~290r/min
(2) Output torque: 70~14800Nm
(3) Power: 0.18~160KW
(4) Mounting type: Foot-mounted, flange-mounted, horizontal or vertical installation.
Motox Geared Motors characteristics:
1. Housing material: HT250 high-strength cast iron; 2. Housing hardness: HBS190-240;
3. Gear material: 20CrMnTi alloy steel; 4. Surface hardness of gears: HRC58-62;
5. Gear core hardness: HRC33-40; 6. Input / Output shaft material: 42CrMo alloy steel;
7. Input / Output shaft hardness: HRC25-30; 8. Heat treatment: Tempering, cementiting, quenching, etc.;
9. Machining precision of gears: Accurate grinding, 6-5 Grade; 10. Noise (MAX): 60~68dB;
11. Lubricating oil: GB L-CKC220-460, Shell Omala220-460; 12. Temp. Rise (MAX): 40° C;
13...Efficiency: 94%~96% (depends on the transmission stage);
14. Temp. Rise (Oil)(MAX): 50° C; 15. Backlash: ≤ 20Arcmin;
16. Vibration: ≤ 20µ M;
The Gear box with feet and motor Applications:
The products are widely applied in electricity, coal, cement, metallurgy, harbor, agriculture, shipping, lifting, environment protection, stage, logistic, weaving, paper making, light industry, plastics and other regions