Right angle worm drive gearmotor Description
Besides the routine characteristics, S Series right angle worm drive gearmotor adopts the helical gear-worm wheel type to make the structure more reasonable. The series not only has higher transmission efficiency and loading capability than those of single-stage worm wheel transmission, but also reduces space. Moreover, under the close volume, the series can obtain higher transmission ratio and is more favorable for equipment setting. The product can be combined with various helical worm gear unit to meet the different requirements.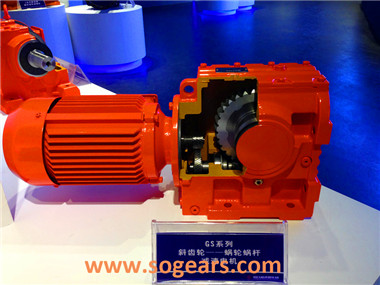 helical worm gear unit Application
1. High-speed shaft speed is less than 1500r/min
2. The gear is not greater than the peripheral speed of 20m/sec
3. The temperature is -40~45,if less than 0,before the start of oil should be preheated to above 0, this gear can be used for both directions running. 
Feature of helical worm gear unit
1. Same dimensions as SEW's. 
2. Mounted type:Foot-mounted or flange-mounted, B5 or B14 Flange-mounted, Torque arm mounted.
3.Output type:Solid-shaft output, hollow-shaft output , Hollow shaft with shrink disk output, hollow shaft with involute spline output.
4. Through Carbonization, Quenching, Grinding technics With Niles, Okuma, Mitutoyo devices. 
5. Save space, durable, high bear ability. Accurate safety factor. 
6. Low consumption, superior performance, the machine efficiency is more than 94%. 
7. Small vibration, low noise, high energy conservation. 
8. ISO 9001 CE approved. 
We attach great importance to pre-sales and after-sales service. Specific contents are as follows:
1. We provide detailed data so that our customers understand performance and application range of equipment; and for questions raised by the customers, we will truthfully answer them. No exaggerating the facts and no cheating the customers are our rules.
2. We meet the requirement of customers for inspecting our equipment. That is to say, the customers can make a visit to manufacturers who have used the equipment of the company and can appropriately modify or increase corresponding functions of the equipment according to requirements of the customers.
3. Before delivery of equipment, we guide the customers to operate the equipment and provide training for maintenance personnel.
4. After the equipment is delivered to work sites, we are responsible for installing and debugging the equipment; and after normal running, the equipment is handed over to operation workers. Our technicians still stay in factories and leave the factories until they ensure that production workers can skillfully operate the equipment.
5. After the equipment is delivered to the customers, we provide one-year warranty; and within warranty period, the company provides free parts and service for any damaged part.
6. Lifelong follow-up Service: For the equipment out of warranty period, we only charge cost price of the parts to replace damaged parts and provide free service.