IEC flange gear motor Products overview:
1, RF47 series IEC flange gear motor with international technical requirements manufacturing, has the very high technology content
2, save a space, reliable and durable, bear overload ability, power can reach high 132KW;
3, low energy consumption, superior performance and gear reductor efficiency of over 95%;
4, little vibration, low noise, energy-saving high;
5, select high-quality forging steel materials, cast iron box, gear surface rigidity by high-frequency heat treatment;
6, precision machined, ensure shaft parallelism and positioning bearing requirements, form helical gear transmission assembly equipped with IEC flange gear reductor.
Class motor, combination becomes electro mechanical integration, fully guarantee the product quality characteristics.
IEC flange gear reductor Features and advantages:
1). With CE, ISO9001-2008, ISO14001-2008 certificates.
2). Passed Alibaba, Made-In-China certificated.
3). Can replacement of SEW, Flender models.
4). Two types flange or foot mounted for customers choose.
5). Longer warranty time 15 months for customers.
6). Quickly delivery time: 18 days for 1-10 pcs.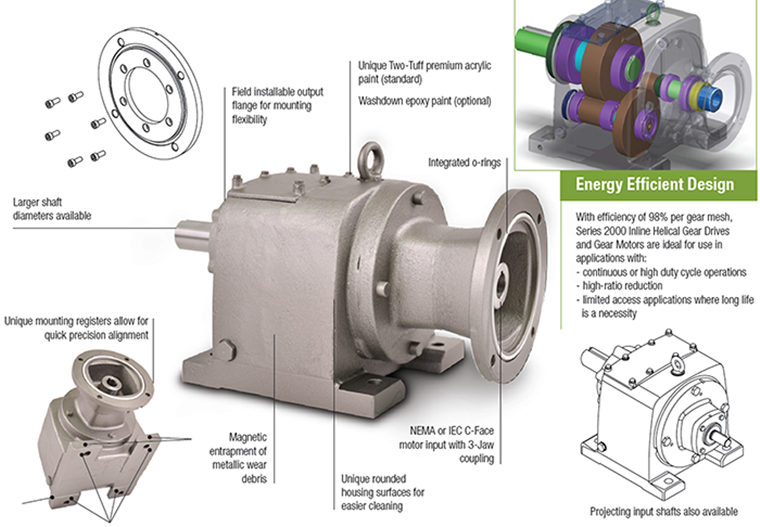 IEC flange gear motor Main Applications
Perfect for the machinery and equipment of following industry:
Conveyor & Material handling
Mining & Quarry
Crusher & Cement
Automatic production line & Mixer
Transport & Packaging
Food machine & Beverage
Construction & Metal processing
Plastic & Chemical industry
IEC flange gear motor 

SPECIFICATIONS:
| | |
| --- | --- |
| Install form | MI-M6(see below photo) |
| Input speed | ≤1500(RPM) |
| output speed | ≤392(RPM) |
| rated power | 0.18-160 (kw) |
| output torque | 85-18000(N.m) |
| series | 2-3 |
| transmission ratio | ≥3.83 |