Our customer Mr. Kotby from Egypt visited our company in 2016. Mr. Kotby operates a large family enterprises which is mainly maintenance and repair the large boat.
Our senior customer manager and the customer introduced the company each other in the reception hall, and we received Egypt special gift from the kind client.
Then we came to the showroom, showed our main product samples as well as the company history, major honors, etc. to Mr. Kotby, and we obtained the customer affirmation.
Next we visited the workshops, from the spare parts, processing,finished product to packing workshops, Mr. Kotby communicated about the technical problems with our
engineer and took photos with the workers, he is very interested in the workshop working due to he is also a great professional engineer.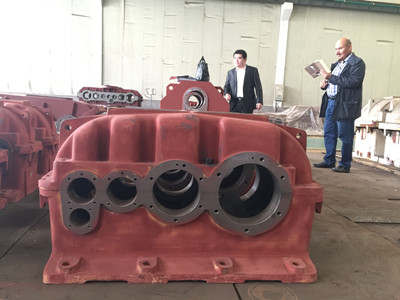 After visiting all of our product lines that including R series helical gearbox, S series helical-worm gearbox, K series  helical-bevel gearbox, F series parallel shaft  helical gearbox, XB series cyclo pin wheel gear motor and the  ZY/ DY series Cylindrical hard teeth face gear unit, ZQ series soft teeth face gear unit as well as PV helical and helical bevel gear units (equivalent to SEW brand HB series), Mr. Kotby choosed the ZFY series four stages gear units used for winch system on the large boat.
We began to arrange the production as soon as we confirmed the order and time is very shortly to delivery due to our customer needed these ZFY helical gearboxes very very
urgently, with the concerted efforts of the all the departments, we completed the order perfectly!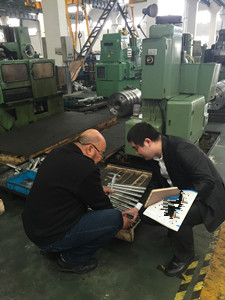 Any one who is interested in the gearboxes, please feel free to contact with us and you are warmly  welcomed to visit our company.
We will offer you the best product and perfect service.
Looking forward to your inuqiry.
With Best Regards,
Julia Zhu ( Sales Department; Miss. )                                     
Tel:+86-535-6330966
Mobile:+86-18563806647
Viber/Line/Whatsapp/Wechat: 008618563806647
Web:www.sogears.com (Skype: qingdao411)
Factory Add:Wujin, Changzhou City, Jiangsu Province,China
https://www.bonwaygroup.com/
https://twitter.com/gearboxmotor
https://www.facebook.com/gearboxmanufacturer