Description
Hard tooth cylindrical gear reducers include series of parallel axis and vertical axis series, parallel shaft gear reducer is according to the national standard (GBl9004-88) production, optimization design, the sankei shimbun has the international advanced level in the eighty s, it mainly includes ZDY (single stage), ZLY (grade two), ZSY (level 3) and ZFY (level 4) four series, vertical shaft reducer is according to the national standard (JB/T9002-1999) production, is used for the input shaft and output shaft is vertical arrangement of transmission device, it mainly includes DBY, DCY and DFY three series.
Applied Range
The circular speed of gear transmission shall not be more than 20 m/s.
Work environment - 40 ~ 50 ℃, if lower than 0 ℃, before the start of lubricating oil should be preheated to 0 ℃ above, the speed reducer can be used in positive and negative two directions.
Hard tooth cylindrical gear reducers can be widely used in metallurgy, mining, chemical industry, building materials, lifting, transportation, textiles, paper, instruments, plastics, rubber, construction machinery, energy and other industrial sectors.
Feature
The main parameters of Hard tooth cylindrical gear reducers, such as center distance and nominal transmission ratio, have been optimized and designed.
Gear are made of high quality alloy steel through carburizing, quenching, and, tooth surface hardness up to hrc54-62.
Small size, light weight, high precision, large carrying capacity, high efficiency, long life, high reliability, smooth transmission, low noise.
Generally use oil pool run, natural cooling, when the thermal power can not meet, can be used for circulating oil lubrication or fan, cooling coil cooling.
Methods for Selection
Given the parameters and conditions
Prime motor name, power P1= kW speed n1=r/min
Name of working machine. Power P2= kW speed n2=r/min
Hard tooth cylindrical gear reducers will be need the ratio of I to n1 over n2
Working hours per day h, starting times per hour, operating cycle per hour %,
Load characteristics (smooth, impact, severe impact), reliability requirements (general, high).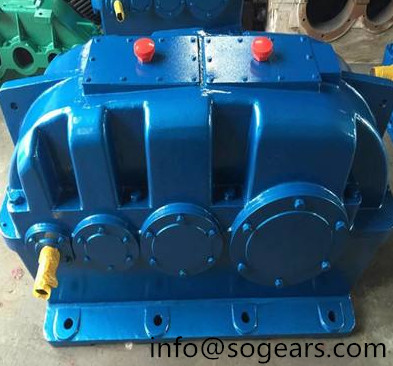 Select specification and model according to rated power
Equal to nominal power input shaft gear box series PA (table 9-20) according to the load smoothly, every day work time less than or equal to 10 h, start no more than five times per hour, allowing startup torque for the work 2 times the size of torque, a one-way operation, single gear contact strength safety coefficient of about 1, the probability of failure rate is less than or equal to 1% of calculate and determine the condition of.
 In the case of bidirectional operation of Hard tooth cylindrical gear reducers, PN shall be multiplied by 0.8-1.0 coefficient as the case may be. When the reverse load is large, the commutation is frequent, and the selected reliability coefficient KR is low, the coefficient shall be smaller, and vice versa.
Matters Attention
Oil level gear reducer usually uses oil teeth lubrication. Before use, it must be refueled to the specified position (press).
When the new reducer is used for the first time, the new oil must be replaced after running-in period of 7 to 14 days (150 to 300 hours).
The brand number of new oil must be the same as that of original oil, and different grades and types of oil should not be mixed.
The Hard tooth cylindrical gear reducers is usually lubricated by oil pool and cooled naturally. When the working balance temperature of the reducer exceeds 90 C or the load-carrying power exceeds the thermal power PG1, circulating oil lubrication or oil-line lubrication with cooling pipe can be used.
Christine Zhu ( Sales Department; Miss. )          
NER GROUP CO.,LIMITED                            
Tel:+86-535-6330966
Mobile:+86-13688909643
https://www.bonwaygroup.com/
https://twitter.com/gearboxmotor
https://www.facebook.com/sogears1993
Viber/Line/Whatsapp/Wechat: 008613688909643
Email: This email address is being protected from spambots. You need JavaScript enabled to view it.;  
Skype ID: This email address is being protected from spambots. You need JavaScript enabled to view it.
Factory Add: No.5 Wanshoushan Road, Yantai, Shandong Province, China (264006)