Company Profile:
Rossi Motoriduttori is one of the largest industrial groups in Europe for the production and sale of gear reducers, gear reducers, electronic speed change and brake motors. Rossi Motoriduttori has been a leader in technological innovation for the last 50 years, for example the product modular design, a variety of installation methods, these technologies have been widely used by other manufacturers.
product description:
Rossi ROSSI parallel shaft, right angle shaft reducer:
Model: GO5, HO2
Parameters:
Output power: 0.09 ... 3650KW;
Output torque: ≤ 400KN.m;
Reduction ratio: 2.5 ...... 12500;
Features:
Multi-faceted installation design, while to meet the foot installation, installation of the flange and the new hanging shaft installation;
Deceleration motor direct connection interface can be equipped with IEC standard flange motor, increasing the motor selectivity;
Single modular nodular cast iron housing, more compact structure, high rigidity and accuracy;
Carburizing hardening and quenching of the alloy steel gear pair, the gear surface have been grinding;
Low noise, high efficiency, low temperature rise;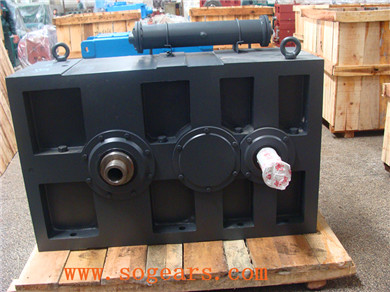 Material:
Box: integrated ductile iron box, a large box for the steel body welding.
Shaft: surface hardened steel 18NiCrMo5 or hard tempered steel 39NiCrMo3 hollow shaft
Gear pair: all through the surface hardening, the external teeth by 18NiCrMo5 or 17NiCrMo6 steel, made by the 20MnCr5 steel teeth, teeth after grinding or precision grinding, tooth surface grinding level of 5.
Lubrication:
The top bearings are lubricated by pumps or greases, others are lubricated with oil baths: synthetic oils (for long term lubrication) or mineral oils, and special designs for lubrication according to specific requirements.
Seal:
Using mechanical seal, double seal;
Large model box with labyrinth seal;
High temperature environment, the use of Viton seals;
If you are interested in the gearboxes, please feel free to contact with us.
We will offer you the best product and perfect service.
Looking forward to your inuqiry.
Warm Regards,
Lance ( Marketing Director; Mr. )         
NER GROUP CO.,LIMITED                            
Tel:+86-535-6330966
Mobile:+86-18563806647
https://www.bonwaygroup.com/
https://twitter.com/gearboxmotor
https://www.facebook.com/sogearsgroup
Viber/Line/Whatsapp/Wechat: 008618563806647
E-mail: This email address is being protected from spambots. You need JavaScript enabled to view it.;   Skype ID: qingdao411